Strasbourg annual happenings
September: Journées européennes du Patrimoine (European days of heritage)
Traditionally, for one weekend in September, all the museums and other institutions of state heritage in France are open to free and guided visits. Additionally, during these two days, Strasbourg opens the door of all the European institutions and offers all curious visitors a free tour.
November: Jazz festival 'Jazz d'Or'
During few weeks in September, since 1985, Strasbourg becomes a live stage for the best jazz musicians in the world. In this period, one can listen to jazz concerts, swings and jams either in city music halls, theatres, various clubs or on the street corners. More information on programme at www.jazzdor.com
29th November - 31st December: Marché de Noël (Christmas Market)
Christmas owes a lot to Strasbourg. To begin with, the very tradition of decorating a Christmas tree started in Alsace. Furthermore, Strasbourg celebrates Christmas with one of the biggest, oldest, most appreciated and one of the most beautiful Christmas market in whole of Europe.
15.-20. May: 'Le nuit des Musées' (The night of the museums)
This annual manifestation offers visitors a free night entrance to all of the city museums with lot of different activities for art lovers of all ages. It also provides a new vision of museum exhibitions and a really unique atmosphere in the city.
20. - 30. June: 'La Fete du cinéma' (Celebration of Films)
This annual festival which lasts for ten days all through the France provides cinema lovers with reductions on all films showing at all the city cinemas at that time. Search for the movies that are shown with French titles (films with mark VO) and be a part of passionate audience.
21st June: 'La Fete de la Musique' (Celebration of Music)
This festival created in France in 1982 is dedicated to music, musicians and music lovers who, during the whole day, can enjoy in free concerts all around the town. During this summer day, one can find professional or amateur musicians playing rock, folk, jazz, hip-hop, cabaret, classical or electronic music on literary every street corner or square. The celebration lasts whole day and must not be missed!
July: 'L'Ill aux Lumieres' (The city under the lights)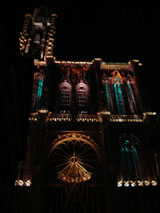 Traditionally, summer nights in Strasbourg are something really special. During the whole July, visitors can enjoy light decorations that give a new vision of city buildings, fountains and churches. Accompanied with music, these light shows (especially the play of lights on the city Cathedral) are a unique experience of urban space and a great tourist attraction.
14th July: National Day
Throughout the whole France, the National Day that commemorates the fall of the Bastille and the beginning of French Revolution is celebrated with great fireworks. Strasbourg is no exception - on this day, be prepared to find your spot in the city centre and to witness a unique firework show.