Hotel Cap Europe Strasbourg
This 2 star apartment hotel is especially convenient for longer stays. The easily accessible location makes it a good choice for business travelers, or for families wanting to visit the Alsace region without staying at a different hotel every night.
Location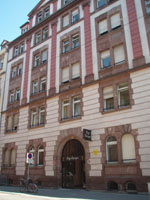 The Cap Europe Appart'hotel is located in a quiet residential area half way between the city center and the European institutions. A walk of 15 minutes will take you to the city center. Two tram lines stop at a short walk from the hotel, which take you directly into the city center, or in 10 minutes to the European institutions. The convention center is also nearby. Business travelers and families will appreciate that the hotel is easily accessible by car.
Dining
French Breakfast is served in the breakfast room. Guests who do not wish to take breakfast at the hotel will find cafés nearby. As the Cap Europe is an apartment hotel, it offers cooking facilities in the rooms rather than a gourmet restaurant.
Rooms
The rooms at the Cap Europe Appart'hotel come in two types: Studios accommodate 1 to 2 persons in 23-25 square meters. Apartments offer sleeping places for 3 to 6 persons. Both room types come with kitchenettes equipped with refrigerator, dishes, electric stove. Many rooms also have a microwave oven. During short stays, towels will be changed daily, and the room cleaned weekly. Visitors staying for one month or longer will have their linens and towels changed as well as their room cleaned once a week. In addition to the kitchenette, rooms are equipped with satellite TV.
Hotel Services
Internet access is available for a fee. Travelers arriving by car can park in the courtyard. A washing machine is available for persons staying for a longer time. The friendly front desk staff will help with any inquiries guests may have.
Business and Conferences
The Cap Europe Appart'hotel's large conference room of 250 square meters is frequently used by local companies. Six smaller meeting rooms are available in addition to the large one, each seating between 5 and 40 persons.
Address
Cap Europe Hotel
6, rue de Bitche
67000 Strasbourg
France

Contact
Tel: +33 3 88 24 81 24
Fax: +33 3 88 24 81 20
www.cap-europe-hotel.com
Secure online reservations