Residence Jean-Sebastien Bach Strasbourg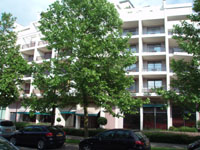 This modern aparthotel is especially convenient for people coming for business to the Congress Center, the European Parliament or the Council of Europe, and for families. Built in 1999, the six-storey building offers all modern conveniences.
Location
The residence is located in a quiet upper-class residential area, within walking distance from the European institutions. Strasbourg's city center can be reached within 15 minutes by tram. For jogging, a walk, or simply watching the Alsatian mascot storks, the Orangerie park, a large park with a small zoo, is nearby.
Dining
The non-complimentary continental breakfast is served until 10:45 in the breakfast room or in the apartment. Since all apartments and studios are equipped with kitchenettes, guests have the possibility to prepare their own meals at their convenience. For those who do not feel like cooking, room service is available around the clock. The residence's lounge and bar "Le Concerto" welcomes guests 24 hours a day.
Rooms
The 89 studios and two-room apartments are air conditioned. Standard Studios and Deluxe Studios have one room, the 14 Business Apartments, Deluxe Apartments and Prestige Apartments are made up of two rooms. All studios and apartments are furnished with beds and sitting corners, and private balconies with chairs and a table. The sofa in the two-room apartments can be folded out into a bed, making it ideal for families. Additional beds are available for a charge. The kitchenette in the room, equipped with refrigerator, microwave oven and dishwasher, comes in handy for longer stays. Satellite LCD television, telephone and a hairdryer in the bathroom are a matter of course. The bathrooms are equipped with bathtubs or showers. Toilets are, as in many of Strasbourg's better hotels, separate from the bathroom.
Hotel Services
The front desk is open around the clock. Small pets are allowed against a charge. Parking spaces are available for a charge. Complimentary wireless internet access is available in the lobby and common areas. A nice attention for guests staying for longer periods and wishing to do their own laundry is the laundry space in the basement. Of course, dry cleaning is available as well. The residence has two small meeting rooms equipped with modern audio-visual technology.
Address
La Residence Jean-Sebastien Bach
6, boulevard Jean-Sébastien Bach
67000 Strasbourg
France
Contact
Tel: +33 3 90 41 30 00
Fax: +33 3 90 41 31 00
www.lejsbach.com
Secure online reservations