Wine cellar of Strasbourg city hospital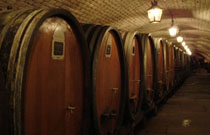 This wine cave situated in the medieval basements of city hospital was founded in 1395 and it stands for one of the best proof of rich Strasbourg history. It also represents a close relationship between the wine and health as the wines or the vineyards were donated during centuries by the patients as a form of payment for a quality medical service.
The cave was newly renovated in 1994, and today, it is a home of a specific wine museum featuring more than 40 ancient barrels (the largest of them can hold up to 26080 hectolitres of wine), a wine press dating from beginning of the 17th century and a barrel that is still filled with the wine from the year 1472. This extraordinary wine that is also one of the oldest wines in the world, was served only three times - first tasting was held for the Swiss delegation in 1576, the second one was inspired by the renovation of the city Hospital in 1716 and the last persons who had tasted this wine were the liberators of Strasbourg led by general Lecrerc in 1944.
The oldest wine.
Today, this 1200m2 wine cellar is the home of closely selected Alsatian wines which are given a permission to mature in its barrels. After a certain period of maturing, these wines are bottled on the spot, which underlines their freshness and quality.
Cave Historique des Hospices de Strasbourg
1, Place de l'Hôpital
67091 STRASBOURG
Tel. + 33 3 88 11 64 50
Fax + 33 3 88 12 81 59