Hotel Villa d'Est Strasbourg
Elegant from the inside and the outside, this 3 star hotel will do everything to make your stay in Strasbourg memorable. The inviting ambiance of the hall with the fireplace continues throughout the whole hotel.
Location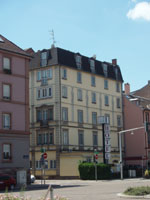 The Villa d'Est is easily accessible by car from the motorway. The hotel is located in a quiet residential area however, so guests will not be bothered by noise. A walk of 15 min takes you right into the the city center. Two bus lines stop nearby, and the nearest tram station is five minutes away. The city center as well as the European are all easily accessible by public transport.
Dining
The gorgeous 18th century style breakfast salon is named "Rouget de Lisle" after the French army captain who wrote the words of the French national anthem, the "Marseillaise", in Strasbourg in 1792. The hotel's bar "Le Rohan" gets its name from the baroque palace in central Strasbourg. The bar proposes fresh light snacks throughout the day and evening. On warm days, guest can enjoy the recently opened new summer terrace. Room service is available around the clock.
Rooms
The hotel has 48 rooms and is entirely non-smoking. The rooms in the West building have been entirely renovated in 2008, guarding the original elegant and classy interior design. In the East building, rooms come in a more rustic Alsatian style. Bathrooms are equipped with spacious shower or bathtub. All rooms are equipped with TV receiving international channels and a safe. Individual air-conditioning is a matter of course. Families will be glad to learn that baby cots and even baby bathtubs are available upon request. Wireless internet is free of charge throughout the hotel.
Hotel Services
The front desk and its multilingual staff are at your service 24 hours a day. Pets are allowed for a small fee. While the hotel does not have its own parking lot, cars can be parked in the street free of charge - which is rare in Strasbourg.
The Villa d'Est is one of the few smaller Strasbourg hotels offering a fully equipped gym. In addition, guests can detox in the Finnish sauna. Relaxing Swedish massages are available upon request.
For business, the hotel offers a seminar room on the 5th floor seating up to 19 people for a meeting or private dinner. The 18th century style salon "Rouget de Lisle" can be rented for larger events with up to 80 people. Not only is wireless internet access free of charge, but also a laptop computer can be rented at the lobby.
There is another point that makes the Villa d'Est stand out from other hotels: The hotel employs its own driver with hotel car, who is available for pick-up or short transfers.
Address
Villa d'Est Hotel
12, rue Jacques Kablé
67000 Strasbourg
France

Contact
Tel: +33 3 88 15 06 06
Fax: +33 3 88 15 06 16
www.hotel-villa-est.com
Secure online reservations